Before starting our law firm, we spent several hours brainstorming names. We didn't want to use the traditional law firm naming convention of using the surnames of the founding partners. As trademark lawyers, we push our clients to select distinctive trademarks. They are the best and strongest trademarks from a legal perspective. So, we wanted to practice what we preach.
We're dog people. And one of the early contenders was Bird Dog. However, we ultimately settled on Trust Tree, which was popularized in this scene from the movie Old School:
When discussing sensitive subjects, we would jokingly describe ourselves as being in the Trust Tree. This made sense as a law firm name, given the confidential nature of our relationship with our clients. It also helps that one of our partners is named William Ferrell. The only downside is the occasional calls about trust and tree services.
However, we didn't give up on dogs completely. We feature puppies throughout our website (along with our copyright cats). You can also see two of our actual dogs on our "about" page (they even have their own contact info):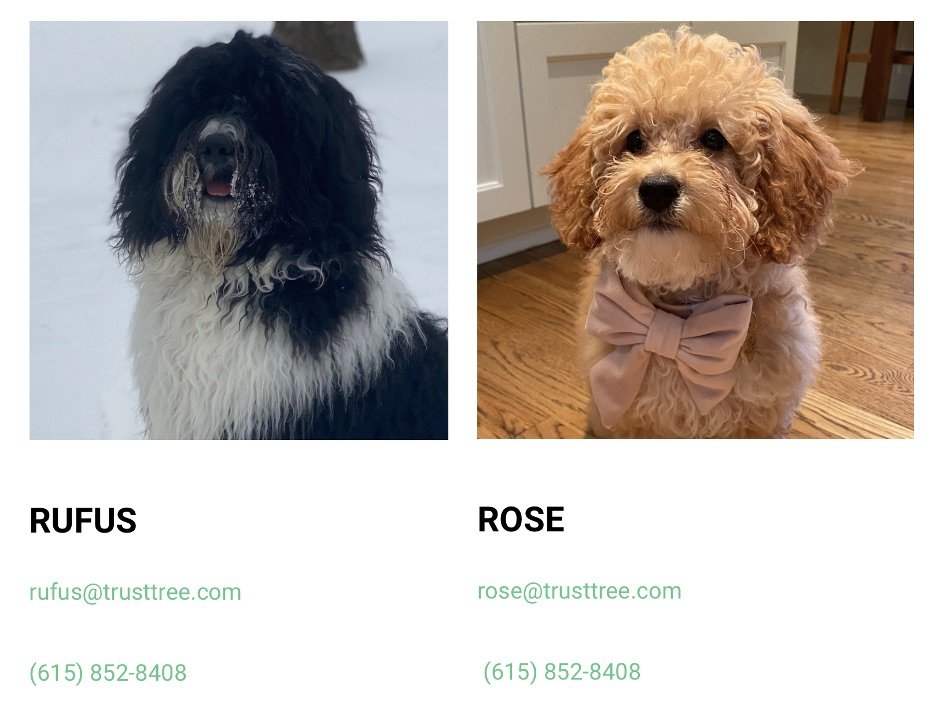 Our dog-themed branding has served us well over the years. There's a lot of demand for trademark services among dog people. And judging by the USPTO database, dog people need lots of other goods and services. So, for example, the maker of Tito's Handmade Vodka – Fifth Generation – owns several "dog people" trademark registrations:
• US Registration Number 4478619 (DRINKS FOR DOG PEOPLE) for distilled spirits
• US Registration Number 4478620 (COCKTAILS FOR DOG PEOPLE) for distilled spirits
• US Registration Number 4478621 (VODKA FOR DOG PEOPLE) for distilled spirits
So not only is being dog-friendly a surefire way to make work more fun, but it's also good for business.