I have a bit of a sweet tooth. Just last week, my mother-in-law left a bag of pumpkin spice donuts at my house. The donuts didn't survive the night. Unfortunately for donuts, they did not survive Dunkin' Donuts' recent rebrand either.
Earlier this week, Dunkin' Donuts made the announcement that it would be dropping the "Donuts" from its name. I could try to provide a pithy explanation for the rebrand, but let's leave that to Stephen Colbert.
While the rebrand was a surprise to many, anyone with a keen eye on USPTO filings would have noticed the company filed multiple applications to protect the trademark DUNKIN' back in January.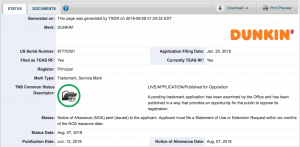 The shift away from including "Donuts" may not be the end of the company's rebrand. Two weeks ago, Dunkin' (I guess) filed a new trademark application for DNKN', and, eight days ago it filed an application for GREAT COFFEE AT THE SPEED OF DUNKIN'. Sounds like America may no longer be running on Dunkin' soon.
I learned about both these applications by running a simple search for "DUNKIN'" using the USPTO's Trademark Electronic Search System (or TESS). If you want to learn more about how to run this type of search to stalk your favorite brands or for your own trademark purposes, check out this page in our learning center.
Kevin's Donut Power Rankings:
1. Chocolate Iced Glazed
2. Glazed Sour Cream
3. Glazed
…
99,999. Any donut filled with cream. Go ahead, @ me.