"It's football time in Tennessee." The famous words of Vol legend John Ward have been in my head all week. The "Voice of the Vols" passed away a few months ago, but he will be on the mind of every Tennessee fan all season.
In the SEC, traditions fade slowly. Before I was a Vol fan, I cheered for my parents' alma mater, the University of South Carolina. Since before my parents' days in Columbia, the Gamecocks have worn helmets adorning their iconic "Blocked C" logo.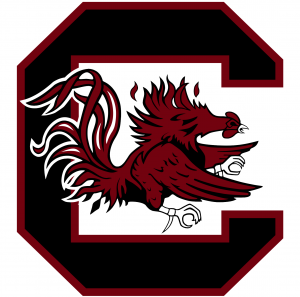 In 2003, USC registered the "Blocked C" logo as a trademark claiming use back to 1970.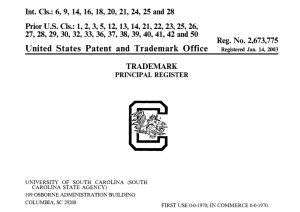 This year, for the first time since 1974, the Gamecocks will wear helmets without the titular bird or "Blocked C" logo. Instead, the boys in garnet and black will be wearing helmets featuring the Carolina script logo.
According to the director of trademarks and licensing for the University, "The 'Script Carolina Collection' brings a renewed take on a beloved mark for Gamecocks that want to show their Carolina pride every day."
Despite use of the Carolina script logo, USC has not registered the logo as a trademark or filed an application seeking to register the trademark. One reason the school may not be seeking federal protection for the trademark is because it identifies a known geographic location, South Carolina. If a trademark's primary significance relates to a place identified in the trademark, it is geographically descriptive and typically cannot be registered on the Principal Register.
For now, the Carolina script logo will not be permanent. If it becomes popular, don't be surprised to see USC file an application to register the trademark despite its geographic descriptiveness. While geographically descriptive trademarks typically cannot be registered on the Principal Register, if a party can show that such a trademark has become distinctive as applied to that party's goods or services, it can be registered.
To translate for the non-IP nerds, the more popular a geographically descriptive trademark becomes, the more likely it can be registered on the Principal Register.
But enough about the Gamecocks, let's get fired up about the Vols with Jon Reed.
Hours away from a new era pic.twitter.com/khvRw9cdmG

— Jon Reed (@Jon__Reed) August 30, 2018